6 Anime Like Monster Musume no Oishasan (Monster Girl Doctor) [Recommendations]
Monster Musume took the world by surprise years back when the manga hit The New York Times' best-seller list. It seemed inevitable that after the success of the romcom monster girl series, more like it would follow. Monster Musume no Oishasan came out in the anime world this 2020 summer anime season and while it hasn't been making anyone's top ten charts, we here at Honey's Anime have noticed the ecchi romance series.
Monster Musume no Oishasan follows the exploits of a young human doctor named Glenn Litbeit and his female lamia assistant Saphentite Neikes. The two are quite different due to the obvious human/monster girl combo but together they try to assist other monster humans as they fall victim to random injuries and oddities alike. It's an odd situation but, like Monster Musume, this series has captivated us with its attractive cast of monster girls and random bits of comedy. If you're like us, you're going to want to see more shows like Monster Musume no Oishasan and we have a list ready just to meet your needs!
Similar Anime to Monster Musume no Oishasan / Similar Anime to Monster Girl Doctor
1. Monster Musume no Iru Nichijou (Monster Musume: Everyday Life with Monster Girls)
Episodes: 12
Aired: July 2015 – September 2015
Kimihito Kurusu thought his life would end up quiet and peaceful when his parents left to go overseas. Unfortunately, Kurusu is about to get an once-in-a-lifetime offer from a woman known only as Agent Smith. This strange agent works for the interspecies exchange program and wishes for Kurusu to be one of the candidates to take in a half-human woman named Miia. While this might sound appealing, Kurusu is about to learn that taking care of a monster girl—especially one that has fallen for him—is far from easy and will make his mundane life a bit more lively.
Obviously, our list of similar anime to Monster Musume no Oishasan wouldn't start off well if we didn't list Monster Musume no Iru Nichijou first! Monster Musume is almost beat by beat in nature to Monster Musume no Oishasan. Both series feature very sexy monster girls and put comedy in the forefront as our human male must try to navigate the waters of working/coexisting with their strange mannerisms. Both series are hilarious and full of top notch monster girl ecchi so the only issue you may come across is figuring out which cast of monster girls is better.
Monster Musume: Everyday Life with Monster Girls Trailer
---
2. Rosario to Vampire (Rosario + Vampire)
Episodes: 13
Aired: January 2008 – March 2008
Hopeless normal blooded human Tsukune Aono has found himself failing to get into any local school leaving him with few options left. Luckily, one school has taken Aono's acceptance but our young protagonist will soon realize this isn't an ordinary school by any definition. Aono has become a student at Youkai Academy where all of its fellow students—aside from Aono—happen to be monsters in human disguises! Can Aono survive in a school filled with human hating creatures and live alongside a vampire named Moka who has a lust for his sweet blood!?
Rosario to Vampire is an older series but in many ways was one of the earlier examples of throwing monster girls with human protagonists into the story. Like Monster Musume no Oishasan, Rosario to Vampire has tons of fan service for us oppai loving otaku and has a cute romance story that borders on insanity. Rosario to Vampire also happens to have some awesome action sequences—thanks in large part to Moka—that will thrill anyone needing some monster versus monster girl battles!
Rosario + Vampire Trailer
---
3. Demi-chan wa Kataritai (Interviews With Monster Girls)
Episodes: 12
Aired: January 2017 – March 2017
Ajin—or better known as Demi—are half-human and half-monster beings that have slowly begun to trickle into human society for years now. Shibasaki High School has even begun to let Demi students mingle in with humans despite the still occasional mixed reactions from those not understanding of these monster-like humans. Biology teacher Tetsuo Takahashi has taken it upon himself to begin researching Demi by interviewing three young Demi girls and learning more about their struggles/trials while living/mingling in with humans. Takashi will come to understand that both races might be quite different in genetics but in terms of living are quite similar!
While less ecchi themed—aside from a very sexually driven succubus gym teacher—than Monster Musume no Oishasan, Demi-chan wa Kataritia hits all the right notes in terms of comedy and drama that can be found in Monster Musume no Oishasan. We loved the various issues Takashi finds himself in as he begins to notice our three main female Demi are quite silly and goofy just like any other normal human teenager. Anime viewers looking for a more wholesome look at monster girl themes will love Demi-chan wa Kataritai and will be given just enough fan service thanks to our favorite succubus Sakie Satou!
Interviews With Monster Girls Trailer
---
Any Anime Like Monster Girl Doctor / Any Anime Like Monster Musume no Oishasan?
4. Peter Grill to Kenja no Jikan (Peter Grill and the Philosopher's Time)
Episodes: 9+
Aired: July 2020 – Currently Airing
Known far and wide, Peter Grill seems to be the man who has it all! Boasting incredible fighting abilities, dating an amazing girlfriend and known for his various exploits across the land Peter is what most men strive to be. Unfortunately, this fame comes at a high price. Peter is now trying to survive his toughest battle to date and it will take all of his skills mastered to do so. Our Peter must survive a bevy of women who all want to bear his child!
Glenn and Peter might be two different protagonists entirely but let's be honest, they share a similar blessing/curse. In the world of Peter Grill to Kenja no Jikan, our hero is swatting women away left and right as they vie for his affection in whatever way they can! Likewise, Glenn might be just an average human but that hasn't stopped numerous monster girls from trying to make him a potential groom. Peter Grill to Kenja no Jikan is a pretty underrated summer 2020 anime that we feel is pretty fun despite the various flaws it has. In our honest opinion, anyone who loves Monster Musume no Oishasan will no doubt love Peter Grill to Kenja no Jikan for the numerous bits of ecchi and comedy both anime contain!
Peter Grill Trailer
---
5. Jitsu wa Watashi wa (Actually, I am…)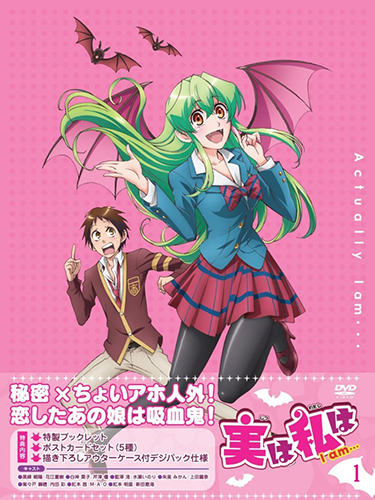 Episodes: 13
Aired: July 2015 – September 2015
Every high schooler's dream is to find out that someone is crushing over them. Too bad for Asahi Kuromine that someone happens to be Youko Shiragami who while very cute also happens to be a vampire! Asahi still has strong feelings for Youko and promises the cute vampire that her secret will be safe with him. Asahi though might have problems keeping said promise as he is known school wide for being terrible at lying and keeping secrets! Hijinks are about to ensue as Asahi tries to guard Youko's secret as best as possible from various folks who also have their own secrets to hide…
Jitsu wa Watashi wa was another anime series that didn't get enough praise it deserved. Filled with vampires, aliens and other oddities, Jitsu wa Watashi wa is a comedy/romance series that kept us dying with some well-timed humor moments and strange scenarios for our Asahi to handle. Fans of the antics of Monster Musume no Oishasan will love Jitsu wa Watashi wa as both series have several cute monster girls to gush over and some truly perfect comedy moments.
Jitsu wa Watashi wa PV
---
6. Centaur no Nayami (A Centaur's Life)
Episodes: 12
Aired: July 2017 – September 2017
If you only saw Himeno Kimihara from a distance you'd assume she was just a normal high school girl with a cheerful demeanor and disposition. Himeno though is far from a normal girl as she is a centaur who just so happens to be one of millions of supernatural beings coinciding with normal human beings. Himeno and her friends all try to enjoy their school days despite the occasional challenges presented being different from those around them. Can Himeno stay happy and cheerful despite the trails being a centaur can bring?
Our last similar anime to Monster Musume no Oishasan comes in the form of Centaur no Nayami. If you're looking for tons of fan service and ecchi themes then you're probably going to dislike Centaur no Nayami as it doesn't mirror the oppai goodness of Monster Musume no Oishasan. That being said, Centaur no Nayami is on our list as it looks at the challenges and silly odd moments being a monster girl presents in what seems like a normal human world. If you wanted a monster girl anime without tons of oppai and fan service—which can get tiring after a while—then we recommend Centaur no Nayami for a more relaxed anime with some cute monster girls who are just trying to enjoy the challenges of being a high schooler.
Centaur no Nayami PV
---
Final Thoughts
Monster Musume no Oishasan isn't a stellar example of a perfect anime but for what it offers, it's a very enjoyable series. We love the various monster girls it offers and we won't lie, some of the comedy has made us burst out laughing…sometimes in awkward locations. Nevertheless, Monster Musume no Oishasan definitely has its fan base and we hope the list above gives said fans some new shows to enjoy like it! Have you seen any of the shows we mentioned above? Comment below to let us know! Be sure to keep stuck to our monster girl loving hive here at Honey's Anime for even more anime lists and anime themed articles!